---
Meet Will
Can you imagine hearing these words from a doctor, about your child?'The chances of survival are zero.'
That's what the Stuart family were told when their son Will had relapsed for a third time with leukaemia.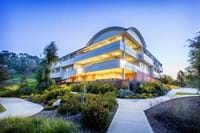 Hilltop Accommodation Centre: Stage 2 Expansion
Fight Cancer Foundation's Albury Wodonga accommodation centre, Hilltop, provides patients and their carers with comfortable and affordable accommodation close to the Albury Base Hospital, Albury Wodonga Cancer Centre and other local treatment centres.
Increasing demand has prompted Fight Cancer Foundation to embark on the Stage 2 expansion of Hilltop, which will increase capacity of this unique and vital service by 3,650 guest nights each year.
---